E. & H.T. Anthony
Champion Equipment, Variation 1
B (tilting ground glass, side swing knob) (c. 1887-1899)
Illustrated Catalogue of Photographic Equipments & Materials, E. & H.T. Anthony & Co. (New York, NY), August 1887, p. 10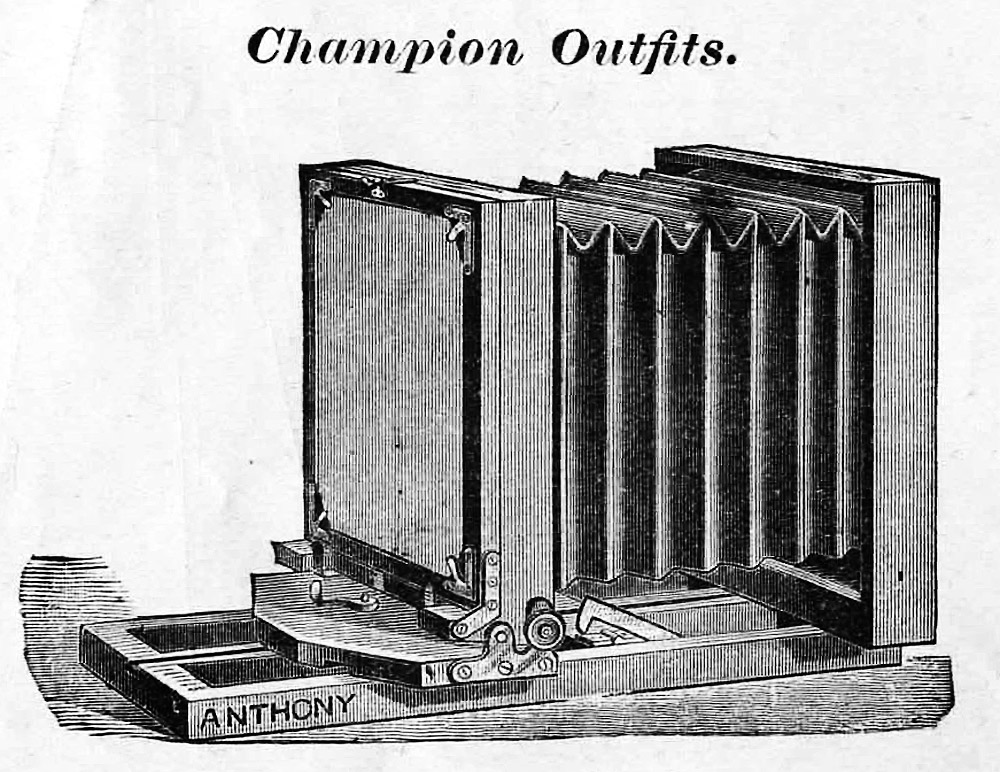 8 x 10 Variation 1B








8x10 Variation 1B





Date Introduced: - ; Years Manufactured: c.1887-1899
Construction: back focus via push-pull; single swing; reverse by two tripod mounts; plywood lens board
Materials: optional cherry or mahogany body; cherry base track; black fabric bellows; brass hardware, varnish finish
Sizes Offered: 4x5; 4¼x6½; 5x7; 5x8; 6½x8½; 8x10
Notes:
The Champion is constructed similarly to the NPA camera, except its wood is varnished instead of French polished. The 1887 reference states that the body of the camera was cherry instead of mahogany, and some cherry examples are known, but so are some mahogany cameras that are not French polished - possibly Anthony decided to make all out of mahogany at some point after 1887. In some example cameras, the mahogany does not seem to be matched as well as it is in NPA example cameras. Also, the hardware on the Champion model did not have draw file finish of the NPA. Such features make the Champion less expensive than the NPA.
There are no small number of Variations:
Champion Variation 1 has a tilt-down ground glass frame, and is split here into three sub-variations.
Champion Variation 1A has the tilt-down ground glass frame and its swing hardware knob built into the top hardware piece. This is the same camera as Anthony's Amateur Equipment No. 2B., which describes a handsomely finished camera (but not mahogany) having a single swing, and the engraving illustrates the top hardware that combines a ground glass clip with the swing set thumbscrew. It is possible that this variation was never called Champion - that the switch of the name from Amateur Equipment No. 2B to Champion coincided with the construction change from Variation 1A to Variation 1B. It is placed here to emphasize the continuity of Anthony's version of an inexpensive, back focus, square bellows camera.
Champion Variation 1B has the tilt-down ground glass frame, but its swing knob is on the right side bottom of the rear standard. It has a normal thumbscrew to make the bed rigid.
Champion Variation 1C has the tilt-down ground glass frame, and the swing knob on the right bottom, but has a large brass plate to make the bed rigid.
Champion Variation 2 has a spring-held ground glass frame / spring back.
Champion Variation 3 has the open front style adopted in April, 1900.
The two examples above are both 8x10, are both cherry wood throughout, and would be identical, were it not that one has two ground glass clips, while the other gets by on just one - choice of the craftsman who made them.
References:
Illustrated Catalogue of Photographic Equipments & Materials, E. & H.T. Anthony & Co. (New York, NY), August 1887, p. 10
Illustrated Catalogue of Amateur Photographic Equipments & Materials, E. & H.T. Anthony & Co. (New York, NY), January 1888, p. 10
Illustrated Catalogue of Amateur Photographic Equipments & Materials, E. & H.T. Anthony & Co. (New York, NY), January 1889, pp. 10
Descriptive Catalogue and Price List of Photographic Apparatus, E. & H. T. Anthony & Co. (New York, NY), 1889, p. 40
Illustrated Catalogue of Photographic Equipments and Materials for Amateurs, E. & H.T. Anthony & Co. (New York), NY, January 1891, p. 3
How to Make Photographs. A Manual for Amateurs, C. T. Roche and H.T. Anthony, E. & H.T. Anthony & Co. (New York, NY), 1892, p. 13
Illustrated Catalogue of Photographic Equipments and Materials for Amateurs, E. & H.T. Anthony & Co. (New York, NY), September, 1894, p. 7
Illustrated Catalogue of Photographic Equipments and Materials for Amateurs, E. & H.T. Anthony & Co. (New York, NY), August, 1895, p. 7
Illustrated Catalogue of Photographic Equipments and Materials for Amateurs, E. & H.T. Anthony & Co. (New York, NY), December, 1895, p. 7
Illustrated Catalogue of Photographic Equipments and Materials for Amateurs, E. & H.T. Anthony & Co. (New York, NY), August, 1896, p. 7
Illustrated Catalogue of Photographic Materials, Thos. H. McCollin & Co. (Philadelphia, PA) undated, c. 1897, p. 50
5x8 Stereo Set Up





Back to E.& H.T. Anthony